About 121normal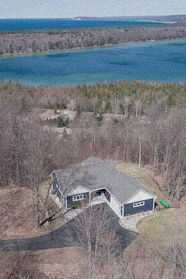 121normal
is the ongoing studio project of Michigan based multi-instrumentalist Glenn Poorman. Glenn's instruments include the Chapman Stick, electric and acoustic guitars, basses, piano, and all manner of synthesizers both hardware and software based. The material ranges from ambient to rock, progressive, and cinematic with the occasional guest vocalist. The project itself is named from the location of Glenn's first home studio.
While working with
Conditioned Response
in the early 80s as the groups lead guitarist and writer, Glenn began building up his cassette based home studio. He used the studio to branch out and write/record music without the constraints of what could be performed by a live band. Glenn's influences were an eclectic mix ranging from the Chameleons and U2 to Jean Luc Ponty, Pat Metheny, Vangelis, and Tangerine Dream. Back then, he was as likely to find inspiration in a film score as he was from a song on the radio. During the mid to late 80s, Glenn recorded several cassettes that were circulated among friends and saw some radio play on local underground programs.
During the 90s, Glenn rebuilt the 121normal studio going fully digital beginning with a Roland VS workstation and eventually settling on a computer based setup running Logic Pro. The first project semi-released was a demo CD of solos performed using the Chapman Stick and live loops. In 2007, Glenn completed the project's first official CD release self-titled
121normal
. The second release
Cinematheque
came in 2021.
Today, the 121normal studio is at its seventh location nestled in the north woods of Michigan's Leelanau Peninsula overlooking Lake Michigan.