Conditioned Response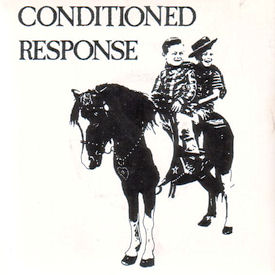 1983 EP
Free download here
Amy Griffiths
- Vocals
Glenn Poorman
- Guitars, Keyboards
Larry Cepuran
- Bass
Tom Demerly Jr
- Drums
All songs by Conditioned Response ©1983
Lyrics published by kind permission of Tchubilfp Publishing Ltd.
Produced by Joe Tackett
Recorded at Multi-Trac Studios; Redford, MI.
August 1983
Managed by Tom Mallia and John Thiry
Sleeve concept by Conditioned Response
Sleeve design and art by Amy Griffiths
Photos (back cover) by John Thiry
Thanks To: Tom and John, Joe Tackett, Velma Demerly, Sybil Griffiths, Mark Mallia, Brian Mitton, Matt McDonald, Tom McHenry, Joseph Poorman, Dave Thiry, Kim Hamilton, Greg, Ernie, Neil, John and J.D., Mike, Bubba, Breck, Mort Crim, Randy Shuman, Mr. Coffee, Dancin Pete and everyone in the Pagoda Room, and special thanks to Bill and Mark McHenry.
NOTE: There are many names that are not mentioned here, because of spatial limitations, but they are no less deserving or our appreciation. It took a lot of people to make this happen, and we thank you all!!
©1983 THIRMAL Records
Track List
Lyrics
Psychologic Genocide
All For Nothing
Too Many Walls