Conditioned Response
1982-1984
'What you see here is an assembly of journals I had kept during the early formidable years of Conditioned Response with some missing pieces filled in from memory and the writing cleaned up a bit. While definitely on the long winded side and probably boring to anyone who wasn't involved, this detailed history of the original band was a labor of love and exists for my own benefit more than anyone elses.

So enjoy ... don't enjoy ... I really don't care.
- Glenn Poorman, June 2005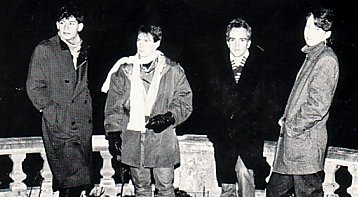 Quick Links
The Beginning
During the 1970s, Matt McDonald and I were part of the Allen Park public school system. The two us, along with a handful of other guys from our neighborhood, spent almost all of our time skateboarding on some cement embankments outside the local ice arena. In 1977, we tried out for a Dearborn based skateboard team sponsored by Schuman's Schwinn Cyclery. We made it onto the team and it was there that we met up with Larry Cepuran, Tom Demerly, and John Thiry. During the next few years, we all skateboarded together at the various parks popping up around southeast Michigan. Back then, there was a bit of an "underground" stigma attached to being a skateboarder. Like any self respecting underground activity, skateboarding came with it's own subculture. The hang outs, the clothes, and (of course) the music all made up, what was then, the life of a skater. On the music scene, punk began to emerge at about the same time and the two world, skating and punk, seemed to immediately become one.
I had been into music both as a listener and a performer for most of my life. I grew up in a house that always had a piano in the basement and everyone in my family (with the exception of my father) had some amount of skill there. When I was in grade school, I signed up for saxophone in the school music program. I studied both privately and in the school program, attended numerous festivals where I performed both solo and with an ensemble, and attended the National Music Camp at Interlochen during my high school summers. For all intents and purposes, I was a seasoned musician by the time I got out of high school. Up until then, however, all of my training had been in classical music and reading. I did play with some jazz ensembles in junior high and high school but my biggest strength there was reading charts while my improvisational skills were mediocre on a good day. None of that would have really mattered much except that my listening tastes had always been far different from the music I was playing on the saxophone. I grew up on swing and rock. My father was almost fanatical about bands from the swing era and I had heard them all. Between my older sisters and myself, we had a great collection of rock records from the sixties and seventies. This was the stuff that got my adrenaline flowing. With everything I knew about playing music though, I didn't have a single clue as to how to do rock and pop music. And I didn't really think about it then. I was content to play what I played and listen to what I listened to.
In the summer of 1980, we were all out of high school. Tom had already moved onto college being a year older than the rest of us and Larry, John, and myself were all preparing to enter college in the fall. To most people, that would sound as if our lives were completely on track. We felt that we were, however, bored and without a direction. Considering that we all had a pre-occupation with the music we were listening to, it was suggested that we form a band. We all jumped on the idea the way a bunch of eighteen year old boys would. We talked about how cool it would be to be rock stars, go on the road, pick up women, and all the rest of the old cliché. Never mind the fact that, aside from my schooling in saxophone and some rudimentary piano skills, there wasn't a musical bone in the bunch. That seemed pretty irrelevant at the time. We were all eighteen, thought we had good taste, and thought we could do no wrong. Of course, when nobody in your band knows how to play, it makes choosing instruments a little tricky. Since I had played some piano, I was the unanimous choice for keyboardist. Tom's father had played drums and Tom was always interested in playing drums himself so that qualified him to assume the role of drummer. Matt actually owned a bass. This was a great stroke of luck. He had no idea how to play but he did actually own an instrument so Matt immediately became the bassist. With those instruments out of the way, Larry and John became the guitarists by default. It all seemed so easy but there was a small problem. Aside from Matt's bass, we had absolutely no instruments and no money. Tom and I got in some practice on occasion when I would fire up his mom's Hammond organ (no easy task) and bang out tunes by Elvis Costello, the Cars, and Gary Numan while Tom played along on phone books. That was as close to instruments as we got though. At that point, we didn't loose too much sleep over it. The way we talked, you'd think we were rock stars already. All we had to do was say we were a band and instantly we became egomaniacs. It was fortunate that we were ok with that scenario since that would turn out to be pretty much the extent of our musical activity for the summer of 1980.
Fall came around and I was removed from the picture. Larry and John had enrolled at Henry Ford Community College where Tom had already been attending, and I went away to school at Eastern Michigan in Ypsilanti (not very far by today's standards but back then it may as well have been Idaho). The quest for music did continue in spite of my absence. Larry and John were both actively seeking used guitars and I was being prodded from a distance to find myself some keyboards to play. Complications arose, however, when Larry Fong (a friend I had met at school who would later become my roommate) walked into my dorm room one day and started playing guitar. He was playing some very simple tunes and I was totally mesmerized and wanted to learn how to do what he was doing. He agreed to show me some things and, in a matter of minutes, had me awkwardly playing the acoustic intro to Yes' "Roundabout" and the acoustic version of Neil Young's "Hey Hey My My." I'm not sure how to describe what happened after that except to say that I became a man possessed and couldn't get enough. I was actually starting to drive Larry crazy because I was borrowing his guitar several times a day and seven days a week. On top of that, my current roommate was threatening bodily harm if he had to listen to me for so much as another minute. I continued in spite of all that. I did have a nagging feeling at the back of my brain, however, because my instructions were to find keyboards for our yet to actually exist band. The problem was that I had already found the idea of turning my back on the guitar very distasteful in only a few short weeks. On one of my weekend visits home, I figured that if I could get my hands on a guitar, I could show everybody what I had learned and convince them that maybe we should shuffle around our instrumentation. We were all at Larry Cepuran's one night and Dan McMahon (a friend of ours) allowed as how there was a guitar sitting at his house and we could drive over and get it. I piled into my dad's car and took Dan with me along with my girlfriend Nancy and John Thiry. About half way across town, I blew through a stop sign out into Telegraph Road and collided almost head on with another car. Both cars did several spins before coming to rest in the middle of the road. To this day, I really don't know how all parties came out of the accident unscathed as both cars were completely destroyed. One thing I do remember is that, within minutes of the incident, I looked over to see John's father directing traffic around us. I really don't know where he came from either but, all of a sudden, he was just there. We cleaned up and took care of our business with the police at which point I was driven home. My parents were out for the evening leaving me with no choice but to sit and wait before explaining to my father what had happened. After the grim task of informing my dad where he could find the shattered remains of his Fairmont Futura (it was a shitty car anyway), I caught a ride back to Ypsilanti and continued my guitar practice. As that fall continued, we hadn't really talked about shuffling the instrumentation of our band and both Larry and John did finally get their hands on used instruments. Tom got into the game as well picking up a used set of drums.
In spite of the geographical complications, everyone was still determined to have a band and I was still determined to wriggle my way into one of the guitar spots. Truth be told, however, I didn't really take the band thing very seriously at the time considering where I was living. Being in a college dorm was a perfect place to be as a beginning guitarist. The dorm was loaded with people who played so I started to find out who they were and would spend time with them picking their brains. Larry Fongís suite mates were all musicians and I used to just hang out over in their room either playing or just talking music. In December of that year, we were all hanging out in Larryís suite playing monopoly and strumming guitars when the news came over the television that John Lennon had been shot and killed. I still remember that as though it were yesterday. For many of us who were part of the baby boomer generation, the Beatles had no equal. For the musicians who were dabbling in rock and pop, the Beatles could almost take full responsibility for our being there in the first place. It was amazing to me to see so many people on that one evening spend the rest of the night walking around as though they'd just been told about the loss of a family member. I'll never forget it.
1981
So as active as the semester had been, 1980 still ended without a band being formed and with me blowing off my keyboard responsibilities to practice guitar. After finals, I went home for Christmas. Somehow, I had managed to convince my parents that an electric guitar for Christmas would be a good idea. My mom, always supportive of my musical endeavors, agreed but I would pick it out and we had a budget. We went over to Wonderland Music together and picked out a black Magnum Les Paul copy that was priced at $100. It was a cheap starter but it got the job done. I now had a guitar of my own and I could learn to play on my time. The thing I didn't have, however, was amplification and that was something I would have to wait for. So in the mean time, I just ran the guitar into my stereo receiver and that would be my practice amp for the next few months. On the home front, things were getting a little wierd. There were some tensions between myself, John, and Larry due largely to me showing up with a guitar when that job was supposed to fall to the two of them. My answer to that was to pretty much blow off the home front and spend time with people I had met at school. During the winter semester of 1981, I had moved in with Larry Fong. He and I continued to play a lot of guitar and also started jamming with the other guys in our suite. On weekends, all of their buddies from home would come up, bring instruments, and we'd have jam sessions well into the evening. I really learned a lot then. It was almost disappointing when the semester ended. Everyone was clearing out and I was going to have to head home for the summer without the benefit of being around all the musicians that I had come to know. There was always next year though and, while I waited, I could see if I could resurrect any interest at home.
During the summer of 1981, the band we had been talking about for a year now actually started to take shape. I did end up playing guitar. Tom Demerly was playing drums, Larry Cepuran was playing guitar, Matt McDonald was playing bass, and John Thiry became the vocalist. Tom had come up with the idea to call ourselves "The Skegs" and we all agreed. I had finally managed to pick up an amp right around the same time and we started practicing in Tom's basement on a regular basis. The only song we knew how to play was "Anarchy in the UK" by the Sex Pistols. It was fun but we really stunk and didn't stick with it for very long. I continued to do a fair amount of practicing all summer, however, and that's when I began discovering the wonders of effects pedals. I was fascinated with the guitar sounds coming from groups like the Police and U2. As I started building up some pedals, I wanted to start playing with a band again. Opportunity came knocking when Dan McMahon decided to throw a major party at his house and he wanted a band. A couple of Skegs members (including myself) got together with our friend Ed Korczynski as vocalist and worked up some songs for the party. It was one night only and we went under the name "Jesus Interruptus." The exact personnel and the songs we did have long since escaped me. All I remember is that we did play, had fun, and everyone in the house ended up sucking nitrous oxide from a tank of the stuff that Ed had managed to get from a welding supply company. After that, the rest of the summer went uneventful and with no musical endeavors. Well ... except for the time my psycho neighbor down the street heard me playing, knocked on my bedroom window, and asked if I wanted to play at a biker bar she hung out at. She said something like "they wonít start throwing bottles as long as they like you." Yeah ... that sounded appealing. Needless to say, I passed.
In the fall of 1981, I returned to Ypsilanti to continue my college career. Just prior to leaving home again, I had saved some money from the restaurant job and purchased my first real acoustic (a Fender F-65). Heading back to Ypsilanti with two guitars, I spent pretty much all of my time playing. In hindsight, it may have been advantageous for me to also spend some time on my studies but hindsight is always 20/20 isn't it? That fall turned out to be a bad one. I was continuing to get better on guitar but the rest of my life wasn't doing nearly as well. I spent the entire semester involved in a bad relationship which, anyone who has been in one can tell you, is toxic to the psyche. In addition to that (and maybe partly because of that), my grades were deteriorating toward the point of no return. When that semester ended, I really didn't see any other choice but to drop out and re-group. The one good point of that semester was that I became good friends with a guy who I had met the previous year but never got to know until the fall 1981. Kurt Wolf was a classical guitar student in the music department and turned out to be a very good friend when I really needed one. He also had started to show me some guitar tricks from his world, which was very different from playing rock. I really didn't have much interest in playing classical at the time but the techniques he taught me were very applicable to any kind of music. And although he was strictly a classical player, his listening tastes ran the gamut. We had a long standing engagement where we would get together on mornings that we didn't have classes, brew up a pot of coffee, and spin a (what we considered) classic album from front to back.
1982
1982 started with me playing the role of college dropout. I spent that winter skiing twice a week and returning to my job at the restaurant. I was still practicing regularly and was still adding additional effects pedals to my collection. My early return home also gave us a chance to try the band again. While I was gone, John Thiry had purchased a used Gibson bass and a Fender bass amp and had been practicing. Matt had always wanted to be the front man anyway so we re-grouped except this time, John and Matt switched roles. Just as we started up again, my parents decided to take a two-week vacation in Hawaii and left me in charge of the house while they were gone. We seized the opportunity to move all of our gear into my basement and jammed pretty much night and day. Matt and Larry had started working on a song called "Reckless Abandon" and once we setup shop in my basement, I started working on the music with them and we finished it up. In addition to the one original, we also worked up "Blitzkrieg Bop" by the Ramones and "Pretty Vacant" by the Sex Pistols. The plan was to practice our brains out and make a tape of these tunes before my parents returned. Not wanting to be a band without a name, we took another one of Tom's suggestions and went under the name "Invasion of Men." As our two-week plan drew to a close, we had our taping session. We recorded all three songs as far as I know but today I can only account for two of them. This is probably just as well. The "Reckless Abandon" tape actually came off sounding pretty good and the "Blitzkrieg Bop" was rough but still listenable. The "Pretty Vacant" rendition was mauled beyond repair. Once the taping was finished, we cleaned everything out and got the house back in shape for my parent's return. Ok so the rest of the week didnít go entirely without incident. Right before their return, we did throw a rather large party at my house inviting a ton of people I knew both from home and Ypsilanti. We outfitted the house with a half-barrel of beer and one of my school buddies Sean had put together a whole set of the ultimate party tapes. Mostly, the night went smoothly. An old friend of mine from high school showed up and stole the party tapes and Matt broke up with his girlfriend in favor of the woman who would later become his wife. The morning after the party, I was hours from waking up and very hung over when the phone rang. My sister, living in Ann Arbor at the time, told me that she was feeling sick and was on her way home. This gave only a half hour or so to clear the stragglers out of the house (some of whom were in my sister's room) and get the place cleaned up all while nursing a wicked hangover. I didn't quite make it but was close enough.
After the taping session, we fell out of the music thing again and went about our lives, working and such. Saving up more restaurant money, I did manage to finally get a quality guitar that year. I picked up a Hamer Special and sold my old Magnum to Larry's brother Brian. I was spending a ton of time playing and messing with the effects pedals I had. On one particular evening, I started to get the hang of getting patterns out of your delay. I had been listening to a lot of U2 that year and stumbled onto the setting used for the guitar at the beginning of "Electric Co." This really fired me up and I decided it was time to try the band thing again. By this time, we had lost Matt. Matt had enrolled in the spring and summer semesters at Eastern and was now out in Ypsilanti while I was back at home. We wanted to keep plugging so we shuffled personnel again. John had been our front man originally so he moved back into that position. Larry moved over to bass and we tried out the power trio sound with me on guitar and Tom still on drums. This time around, we actually spent some time on the tunes and began to sound like a real band. Around this time, our first opportunity to play in public arose when we were offered a spot playing at the Dearborn Civic Association picnic in Levagood Park. Needing yet another new name, we chose "M-Appeal" (pronounced like the super heroine from the Avengers) and dillegently began working on a set made up of both originals and covers. The picnic came around in July and actually turned out to be a huge success for us. We were finally getting the hang of it and played our tunes pretty well. Right after the picnic, a guy I'd met at a local music store asked me if we wanted to open for his band at the Freestyle in Dearborn. We got together to discuss it and opted out for several reasons. At that point, we really didn't have much material, we still weren't that good, and Tom just plain didn't want to do it. So with that we disbanded yet again.
There was a lot of music activity outside of our own little world though. The early 80s turned out to be a great time to be in to music. New bands were coming out by the dozen and most of the old rules regarding the making of rock and pop music were being thrown out. Seeing as how most of these bands were still considered "underground", they were all touring around and playing at small venues which worked out great for us because small usually meant cheap. We were taking in as much as we could. Much of what we were buying, too, was influencing what we were trying to produce ourselves. In August of 1982, John got a call from our friend Ed Korczynski who had returned to Boston after the famous nitrous party. Ed told John that the newly reformed King Crimson would be playing in Ann Arbor that night and, if we did nothing else for the rest of our lives, we had to go see them. John and I took him on his word and went. Well ... for me this was a life altering event. In addition to the incredible technical prowess of the entire band, there were sounds that I would have never guessed were coming from the guitar players. In addition to the guitarists, the bassist was equally amazing and appeared on stage playing an instrument I had never seen before. We drove home dumbfounded. We wanted to to go play but we didn't know what to play. Where to begin? These are those moments where you either move onto something else or begin moving to the next level. The very next day, I went out and began stocking up on the latest Crimson releases and learned that the instrument the bassist was playing was a Chapman Stick. Since I was always looking for new and different things, I found out who manufactured the instrument and sent away for literature. The literature came and I learned all I could about the Stick but, unfortunately, the pricing immediately killed the idea of actually getting one.
The fall of 1982 came around and it was time for me to take another crack at school. Matt had already been in Ypsilanti since the spring. He'd been scouting around for fall housing and found a house that was perfect for three and asked me to move in with him and Brian Mitton. Brian was someone that Tom, Larry, and John knew from Dearborn. He had moved from Dearborn to Ann Arbor before Matt or I had met these guys though so we didn't know him very well. The year before, I had run into Brian on an elevator in my dorm and recognized him. This meeting kind of put everyone back in touch with Brian and he and Matt had hooked up before my arrival deciding that we should all live together. The place we ended up in was actually very cool. It was the second floor of an old house in Ypsilanti. There was no living room but there was a kitchen and three huge bedrooms. The front bedroom had a little bonus room off to the side with a window looking out over the front porch. I took the front room, setup all my music gear in the bonus room, and setup up furniture in the bedroom so we could also use that room as our pseudo living room. Having failed miserably at anything else I had tried to study (I use the term "study" very loosely) in school, I went back to music that year. I had been practicing my saxophone again over the summer and, after an audition, was accepted into the music program as a saxophone major. That was actually a good move at the time. I was becoming familiar again with the world of classical saxophone and, in addition, I was learning music theory, which would turn out to be applicable and extremely helpful in any style of music or on any instrument I would ever play. On top of all that, I auditioned and got a seat in the school jazz band. That turned out to be a lucky break as the makeup of the EMU jazz ensemble that year was unique. One of the seniors in the music program was a somewhat accomplished jazz trumpeter and wanted to make his living as a band leader. He had managed to convince the professor who usually led the jazz band to sit back and let hime do everything that year (select charts, direct, schedule performances, etc). He turned out to be so energized by the whole thing that he passed that energy on to everyone else. We had a lineup of solid players and played a lot of great tunes. In addition to our performances on campus, we also started booking performances at high schools and other functions around southeast Michigan and traveled the area by bus. It was a great time and we all received an education about the life of a professional musician that they just can't teach you in a classroom.
Back home, John and Tom were still attending Henry Ford Community College and Larry had transferred to the University of Michiganís Dearborn campus. All of them had started hanging out in Henry Ford's student center called "The Pagoda Room" and a crowd of regulars began to call the place home. Unlike my previous years away, in 1982 we all still hung out while I was at school in spite of the distance and the three of us in Ypsilanti started to throw some rather large parties with all our friends back home as well as the regulars from the Pagoda Room. During one weekend bash, Larry showed up and informed me that a mutual acquaintance by the name of Eric Iverson had a band called "Walk Thru Walls" and was looking for an opening band to share some club gigs with. At that time, we had absolutely nothing going on but both Larry and Tom wanted very much to get in on this. Eric asked if we could have something together by some time in January and we told him we could. After the M-Appeal days, Larry, Tom, and I were pretty comfortable in our respective positions as bassist, drummer, and guitarist. The front position was another story however. Both Matt and John had done time fronting the band and they both wanted the job. Larry felt at the time that we should look for a 3rd party and not hand the job to either of them since any decision we made would ultimately lead to someone walking away disappointed. That was sound advice but, having no foresight whatsoever, we decided to work up music for some songs and have an audition. For material, we opted to work up a couple of covers figuring that anyone who wanted to take a crack at it could prepare by listening to and singing along with the records. Ready to go with the audition process, we set up in Tom's basement with all our gear and a tape machine and took turns singing the songs. Matt sang, John sang, and I sang. Unfortunately, nobody shined so we left without making a decision. We didn't lose sight of our gig with Eric though as Larry and I continued to get together in my tiny bonus room writing material. We still hadn't decided on a singer though and we were beginning to think that maybe the person we were looking for didn't exist. It was a little frustrating and we were having our doubts.
Things turned in November of 1982. We were in the midst of another one of the parties that were becoming common place at our house and Larry introduced me to another Pagoda Room frequent named Amy Griffiths. Amy was very much into the same music as the rest of us and expressed an interest in singing with a band. While one of my U2 records was playing, we urged her to show us what she had and she did. We were fairly impressed. The volume was good and she showed no signs of being uncomfortable bellowing in front of a bunch of people, many of whom she didn't know. In the days that followed, Larry pursued Amy to see if she was interested in singing with us. From there, we had another audition. The session itself ran pretty much the same as the first one. We hauled all of our gear over to Toms and ran through the covers with Amy singing. The resulting tapes weren't quite mind-blowing or anything but it was by far the best thing we'd heard up to that point. The next step was to find out what she would add to the writing part of the ensemble. Larry came out to our house for another writing session only this time, he brought Amy along. He had played her tapes of the tunes we had already written music for and she had written lyrics for them. This turned out to be an area where we felt like we'd hit pay dirt. Amy was a solid lyricist and the first two Conditioned Response tunes born from that get together were "Mirrors and Moments" and "A Fortune Made."
All in all, we felt we'd hit on that last element to complete the group. The last and possibly most disturbing task we had to get out of the way was dropping the news to Matt and John that Amy would be it. Larry had tried to point out from the beginning that somebody was going to come out of this disappointed no matter what. Turns out it was both of the original parties that left that way. At this point, we couldn't look back though and spent the rest of 1982 working up material.
1983
The year 1983 started at a feverish pace. We had setup a rehearsal schedule of two days a week at Tomís house which I had to maintain in addition to my school jazz band schedule (not to mention classes and homework and all that). This turned out to be an interesting trick considering I didnít own a vehicle. We were determined not to let such a minute detail get in the way, however, so Larry would drive out and pick me up. After rehearsals, he would drive me back home. Even today, Iím still a bit in awe that we pulled that off but we did. We hadnít heard anything from Eric yet about an opening but we wanted to be prepared so we continued to write new material. While this was going on, John and Tom had enrolled in a video production class at school and needed a project. They had decided that we should make a video. At the time, we figured that "Mirrors and Moments" was our strongest tune so we got together to make a good recording of it. Just for completeness sake, we setup and actually recorded all of the songs we had at that point. Upon listening to the results, it became apparent that one of our newer tunes "Psychologic Genocide" was actually our strongest tune and so that would end up being our video song. That left the ball back in John and Tomís court to organize this thing while we continued practicing as before. Our routine had become well oiled by then. Larry and I would coupe up in the bonus room, arrange music, tape it, and hand it over to Amy. She would put lyrics and melodies to it and weíd all show up at Tomís to run it for him and then put the polish on it. It was almost becoming second nature. It was also becoming imperative that we come up with yet another name. As we had done so many times before, we went to our infinite source of names (Tom). This time, Tom feverishly typed up a list of about two dozen viable names. Some of the names were quite tempting to use simply because of the comical quality ("The Sloped Forehead of an Obvious Idiot" and "Tenzig Norgay and His Slim of Bats") but, in the end, we all agreed on "Conditioned Response."
On the weekend of January 14, we put our rehearsal schedule on hold to try and make this video. The previous taping session geared toward producing a take we would use for the video turned out to be of fairly low quality so we would need to do another tape of the music. On Friday evening, we moved all of our gear over to Larryís house. He had managed to borrow a good PA system so we could actually amplify Amy correctly and do some rudimentary mixing before running to tape. We recorded just a small handful of tunes and the session went pretty well. Saturday would be the first day of video shooting. We hauled everything back over to Tomís. Figuring that the end result would be a mish-mash of us rehearsing and us playing somewhere glamorous, we shot footage of the band playing "Psychologic Genocide" in Tomís basement. On Saturday evening, we hauled everything over to the shop. Johnís father owned and operated a small machine shop in Detroit. He was in the process of expanding and had just purchased a new industrial building in East Dearborn. Having not moved anything in yet, the building was a mess and quite empty. This seemed like a prime location to shoot a dark industrial video so, with permission from Johnís father, we hauled our gear over. On Sunday, we shot the rest of the video. This was, indeed, a chore. Being in the throws of January in Michigan meant it was freezing outside and the building was still unheated. Even though we were only miming to our own tape, our fingers were nearly frost bitten and simply touching guitar strings was a painful ordeal. Among the other annoyances, Amy had on a black coat that seemed to attract lint by the barrel full as soon as she walked in the door and several movie lights were broken in the process of filming. We had also enlisted the help of some extras using Larryís brother Brian as "Biological Man" and Amyís friend Andrea Lipian as "Young Michael Mullen." Discomfort aside, we did actually have a good time that day and, for some reason, really felt like a unit after that. With the shooting done, Tom and John set off to edit. I never did see any of the footage for that video.
After the video shoot, we resumed our rehearsal schedule and the activity level started picking up. We continued to add new material to our repertoire. Eric contacted Larry and told him that, if we were ready, we could open up for "Walk Thru Walls" at an east side club called the "Red Carpet" in February. It was all tentative but it was enough to keep us motivated. Just a few days later, Eric called again. The "Red Carpet" gig had fallen through but he did confirm a gig a the "Freestyle Lounge" in Dearborn for March and added that, if we wanted the opening spot, it was ours. Needless to day, we committed right then and there.
Right around the same time, a Pagoda Room frequent named Mike Robinson heard a rehearsal tape of "Psychologic Genocide" and liked it enough to want to make a good recording of the song. Mike had a four track reel-to-reel machine at his house along with a mixer and some decent mics. That was pretty high class stuff for us at the time. On Saturday, January 29, we showed up at Mike's house to make our tape. We were in pretty tight space and had to lay down the tracks one at a time. All in all, it took us about four hours to complete the one song and we were pretty happy with the result. The very next day, I got word from Larry that the tape we made at Mikeís had fallen into the hands of Tom Mallia who was working for the local radio station WLLZ at the time. Tom had apparently listened to the tape several times. His feedback was a real shot in the arm for us. He wasn't that hot over the recording itself but he seemed to really like the music and thought there was some promise there. On the following Sunday, Amy called me with good news. Tom had played the Robinson tape for Mike Halloran who was another Detroit radio personality. Mike was putting together a Saint Patrickís Day dance at Henry Ford Community College featuring Rhythm Corps (a local band just starting to take off) and was looking for an opening act. This, again, had our spirits up. We were close to booking our second gig before the first one even took place. With the help he had been giving us, Tom Mallia kind of assumed the role of band manager at that point. Not wanting to shoulder the entire burden himself, he asked John Thiry to co-manage the band with him. John accepted and they became Thir-Mal productions. The following Tuesday, after a particularly upbeat rehearsal, we got word that the Saint Patrickís Day Dance was a done deal. All we had to do now was work and wait.
My winter break finally came at the beginning of March and, with it, also came the now infamous "TV Party." Johnís parents had left for a two-week vacation and left him to watch the place. John planned to throw a blowout party on the first Friday after they left and we were to use this as our first public performance before the Freestyle gig. We didn't want to give all of our material away since we wanted most of these people to come to our first real gig so we worked on three of our original songs and a bunch of cover songs. The party finally started and on Friday, March 4, we hauled everything over to Johns. Iím not sure he realized the magnitude of what would happen starting on that night but the whole thing took on a life of itís own. First, on Friday, the big party attracted so many people we stopped counting and stopped trying to figure out where to put them all. At about 10:00 that night, we fired up our amps and did our thing. It was good. The songs came off well and were well received although I had heard complaints later that we looked like stiffs (something to work on). After we finished, however, things kind of deteriorated. Over the recent months, we were becoming increasingly aware that Amy was a bit on the moody side due to what she said were conflicts at home. This was something we could all hang with but, on that night, she was particularly hostile as we found out that she really didnít care too much for being around people whoíd been drinking (and Larry and I were putting it down by the gallon). On top of that, Larry had somehow managed to bash a hole in his face (requiring stitches) and I was quickly becoming a physical wreck due to lack of food and sleep (not to mention the drinking part). Tom seemed to be the only one to come out of the night virtually unscathed. With all that, we decided we had enough material for our upcoming gigs and would put all new ideas on hold until after. Now ... back to the "TV Party." John had planned a party for Friday. His parents were to be gone for the next two weeks after that Friday. What John didnít realize was that a good chunk of his guests wouldnít actually leave until the day before his parents returned. Johnís house became our new rehearsal spot. People were carrying on as usual attending work and school except that, instead of returning home, they were returning to Johns. People were cleaning up, buying food, it was like a commune. On the day before Johnís parents returned, we all convened in their dining room for what we called "the Last Supper." We had every pot in the house in use cooking gallons of spaghetti. Our friend Eric Anderson was responsible for securing dinner drinks and showed up with several gallon jugs of Rossi red wine (never trust any wine that comes in a gallon jug and with a single digit price tag). The dinner went off well though aside from the fact that Eric and his girlfriend Lynn Koz (without knowing the other had done it) spiced the spaghetti and we ended up with a dinner packing some serious punch. I think it was a ploy to get people to drink the Rossi.
Gig night was quickly approaching. With one week to go, we were still not writing new material. On a get together to go over our set, we had a really cool accidental song writing (those are usually the best ones). Amy wasn't there yet so I decided to get Larry and Tom to work with me on something I'd been kicking around. We messed with it a little and it sounded pretty good. I figured we'd shelve it as soon as Amy showed up. So in she came and while she was getting ready, Tom was off on his own tangent and started banging out this cool tribal drum beat (Tom was virtually incapable of not playing). Once we were all ready to go, we ran the new stuff a little more to get Amy's feedback. She thought it was decent and suggested we try it again only this time, have Tom play the tribal beat he'd been playing when she first came down. We gave it a whirl and it was instant goodness. Amy dropped to her knees helling "THAT'S IT, THAT'S IT." She grabbed a pencil, some paper, and wrote the entirey of "I Carried On" right there on the spot.
Gig night finally arrived. On March 10th, we packed up our gear and headed for the Freestyle Lounge. As he had promised way back when, Ericís band "Walk Thru Walls" was the headliner and we were the opening act. We arrived early to find the headliners setup on stage doing a sound check. They were just wrapping up so we exchanged some pleasantries and then they tore down all their equipment so we could setup. We were feeling pretty solid about our set. We were well practiced and confident. We setup and did our sound check. Everything was set. At about 10:00, the place was full of people and we took the stage. We ran our whole list just like we practiced and did very well. There was a good crowd on the dance floor the whole time we played and we were energized. So was the crowd. Thatís the thing about a bandís first gig that I would find out later is fairly common. Although Ericís band was solid, this was our first night, which meant we had invited everyone we knew and they all showed up. The result of a setup like that is that the opening act gets overwhelming response while the headline act gets a luke warm response (most of the crowd left before they even started). We really did play well though. That would certainly not end up being the best show we ever played but definitely one of the most memorable. The other memorable note about that show was that my mom showed up to catch it. That was something I didnít expect but, looking back, Iím very glad she did.
After getting our first appearance out of the way, we had no time to pat ourselves on the back. We quickly re-grouped for our next gig on Friday, March 18th. This was the promised Saint Patrickís Day Dance with "Rhythm Corps" in the Pagoda Room. The lineup for that night called for us to appear first, followed by "The Students", followed by "Rhythm Corps." Amy had arrived early and brought a huge Irish flag to hang up behind Tomís drums. Again, we played our show and played very well. Musically, the Pagoda show was actually better than the first. We were on a larger stage with a larger crowd and a better sound system. This show was a good test also because the crowd wasnít made up entirely of our friends who were going to clap no matter what we did. The response was still very positive, however, and we ended our show feeling very up. The rest of the night was not without incident though. We left the giant flag hanging for the duration of the night. As "Rhythm Corps" ended their last encore, the drummer ripped the flag down and walked off stage with it. Amy and Tom were back stage pounding on doors and trying to get their flag back when the drummer from Rhythm Corps finally gave it up. While all this was going on, we also found out that, in a display of dancing prowess, both John Thiry and Matt McDonald had managed to break their ankles and had to be taken to the emergency room. Very bizarre.
Again, we only had a week to prepare for our third gig. This gig would take us into Detroitís Cass Corridor at "The Old Miami" which was something that, at first, made Amy nervous. It's an area that, today, is almost like a second home but back in the 70s, the Cass Corridor had a reputation for being a good place to get killed. It's not exactly a family area now but at least it's familiar. We were scheduled to play on Saturday, March 26th opening for "Mr. Unique and the Leisure Class." We knew these guys through our friend Russ Johnson. His brother Glenn was the drummer and writer for this band. They had a very odd schtick going that never seemed to take off here. Their front man Dimitri was very animated and Mr. Unique was this guy who stood stage front completely silent and stiff for the entire show. I actually thought they were brilliant and still consider it an injustice that they didn't get farther than they did. We showed up at the bar and they were just wrapping up their sound check. Once they were done, they took off and it was our turn. The Miami was a place that, while they did a good music crowd in the evening, you had to endure the daytime crowd whilst sound checking. The place was close to empty with the exception of a line of Vietnam vets sitting along the bar. As we did our sound check, there was quite a bit of heckling coming from the area of the bar. We were hearing comments like "play some American music ... play some Bob Segar." We figured that as long as the abuse was confined to the verbal kind, we were doing ok. Behind the bar, there stood one of the biggest guys I had ever laid eyes on. He would be our bartender for the entire evening and went by the name "Bubba" (yes ... you heard correctly). He was partnered with another bartender who never gave out his name, didn't talk much, and bore a striking resemblance to Richard Nixon. Shortly before it was time to go on, the regulars started to clear out and the show crowd started coming in. We finally took the stage and did our show and, again, everything went off well. No danger of upstaging the headline act this time though. Mr. Unique had their stage performance down and had also pulled in a packed house for their set. After we finished and started packing up, we noticed a couple pitchers of beer and some glasses sitting on the edge of the stage. We were a little curious when someone whoíd been around there a lot told us that this is something that happens when "Bubba likes you." High praise indeed! Especially from a guy who could fold my car in two. We threw down some beers, packed up, and left.
When the winter semester of 1983 ended, I sublet my room of the house to our friend Kurt Wolf and I retreated back to my parentís house for the summer. This actually made it easier on the band since I was now much closer to everybody else and had use of my parentís car. The year proceeded pretty much the same as it had been going with gig after gig. We had become regulars at "The Old Miami" and played at several other clubs in Detroit and the surrounding suburbs. We did have our fifteen minutes of fame that year when Henry Ford Community College had an outdoor arts festival and booked several bands to play outside all day. We were one of the bands and played a good show. The fifteen minutes came when we discovered that channel 4 news did a story on the festival and the band shown in their clip was Conditioned Response. Weíd heard the clip was coming so we managed to catch it on video. Another interesting event that year was when we switched to the headliner role at "The Old Miami." Another one of the Pagoda Room cast, Greg Kutcher, was working with a band called "Gone Morose" and they were looking to do their first gig. We told them they could open for us and we almost had a repeat of the "Walk Thru Walls" incident with us on the other end this time. We were feeling pretty cocky and proud of ourselves and got to the bar early enough to hear "Gone Morose" play. Thirty seconds into their set we started to get nervous because they were outstanding! Greg was partnered up with Ernie Douglas on guitars and both these guys, as well as the rest of the band, were excellent players. They had a singer who stood about six and half feet tall and obviously took a lot of influence from Brian Ferry. We were genuinely impressed by their show. We discovered that night, however, that we could work well under pressure and played very well saving ourselves from being upstaged. It also didn't hurt that much of their crowd was also our crowd. Not to say we played better than they did though. I still remember how good they were and I did follow them around to many other shows after that. We even tried to work up a song that the members of both bands could play together the next time we were on the same bill. That undertaking, unfortunately, never saw the light of day.
The spring and summer months would go by with us playing at least one gig every week. At this point, many of those gigs run together. We were still playing "The Old Miami" and Bubba was still supplying us with our post-show alcohol. We did have one night that stood out when we double booked ourselves for the same night. We got a line on a guy who was booking music for an indoor hall at the Michigan State Fair and we also were offered a gig at "Lilis 21" in Hamtramck. We nailed down the start times for both shows and decided that we could, indeed, pull it off. We started at the State Fair. When we arrived, there was a country band on stage and a Kenny Rogers look alike sporting a ten gallon hat running the sound board. We found, to our horror, that Kenny was running the show and he would be the sound man all night. Sometime during the bumpkin show, the singer disappeared back stage. I wandered out back to catch a breath of air and saw him changing into an Elvis costume. You canít really get much lower than following an Elvis impersonator on stage. Luckily, there was another band between them and us. The next band was made up of a bunch of guys who were a bit younger than we were and played jazz. They were actually pretty good but they wouldnít wrap up. They had already cut into our time when we started politely asking them to end it. They asked for one more tune and we agreed. Thatís the thing about jazz. Some of those tunes, especially when everyone in the band is taking solos, can run on for quite a while. I think there last tune went on for about twenty five minutes. So now we had to do this thing and still make it over to Lilis in time for our show there. We setup quickly and started to play. Kenny was manning the sound board and he had no idea what to do with us. We kept making suggestions that he ignored. People we knew in the audience started making suggestions that he ignored. He really butchered us. We wrapped up our set and Larry threw his bass on the ground so hard it broke in two. Thatís what we needed to see. We packed it in and sped over to Lilis where we were told that nobody who wasnít twenty one years old could even enter the joint. Well, Amy was not twenty one. The owner said that wasnít a problem since she was a band member but Brian and Matt, however, would have to leave. Considering Brian and Matt were our transportation, we didnít think this was a good idea and promised that they wouldnít try and drink. No go ... they had to leave. Many words were exchanged and we actually started to pack up. Iím not really sure what happened after that but somebody smoothed things over and, all of a sudden, we were setting up again, Brian and Matt were staying, and the owner was being down right friendly. As a show of good faith, the owner even pulled out his personal stash of blackberry brandy that someone in his family had sent him from Europe and lined up a couple glasses for Larry and I (Tom and Amy didnít drink). To this day, Iíve still never had itís equal.
The strange thing about that whole year was that, although we were getting what we wanted, we were all getting a little stressed because the gigs were coming fast and furious. We had pretty much labored over the misconception that turning down a gig meant never being invited back so saying no was not in our vocabulary. This was usually not a problem except for the odd weekend when Tom Mallia or John would call and say "got any plans for Friday" and, regardless of how you answered the next line would be "well break them because you have a gig." We kept pushing though and, aside from the stress factor, we were making money and playing gigs anywhere from one to three times a week. Toward the end of the summer, we had a fairly tidy little sum saved up in our bank account and started to throw ideas around about what to do with it. A lot of practical ideas like a PA system were thrown out but, in the end, we decided it was time to make a record. Tom Mallia had played some of our tapes for Joe Tackett. Joe played in a local band called "Savoir Faire", fancied himself a budding producer, and had already done some good work recording his own band. He expressed an interest in producing our record at no expense with the possible exception of a meal or two while we were working. We found a studio in Redford called "Multitrack" who had a package deal going. They would charge $800 for ten hours of recording time, free setup time, and 500 pressings. We decided we would go in and make a three song EP. We were all very particular to "Psychologic Genocide" since it was our first solid tune and still one of our favorites. We also liked "Too Many Walls" quite a bit and that song had the additional appeal of being long enough to fill one side of the record. The third song, "All for Nothing", was selected for itís potential mass-market appeal. It was more up-tempo than the others and had only recently been written. With the song selection complete, we got down to work. During the summer, we had switched rehearsal spots out of Tomís basement. Johnís father had still not moved into his new shop yet but some of the interior rooms were now heated so we moved our rehearsal spot there. Joe started to come to some of our rehearsals to try and help point out potential problem areas for us to focus on before the recording session. He had also started working with Amy on the side as a voice coach.
Getting our material down, the only other detail we had to take care of was the money. We had made a few adjustments in our package and our price had gone up accordingly. We had already surpassed what we had in the bank and needed extra cash. We managed to secure some investment money from both Amyís mother and from my father. Additionally, Tom Mallia had volunteered to throw in some cash with a slight stipulation. By the time the summer was coming to a close, Tom was getting increasingly sick of us. Looking back, it was fairly understandable since everybody involved in Conditioned Response was spending most of their time on edge. When Tom volunteered to pay the rest of our bill, he added the stipulation that Joe would have the last word on all recording details and if any of us even started to raise a stink (which was something we did a lot), heíd take his money and go. We agreed. That was one of two mistakes. The second mistake came with a decision we made when we found out the cost of tape. We were going to be recording on two inch reel-to-reel and the tapes cost about $150 (we would fill one tape). Multitrack told us that, as an alternative, they would supply tape free of charge but that the master tape would be erased and re-used after the record was mixed and pressed. We opted for that route (mistake #2). Actually, if we hadnít made mistake #2, mistake #1 probably wouldnít be an issue.
So we booked a Saturday in August to start taping and showed up bright and early at Multitrack. Breck Watt was the in-house engineer and he immediately went to work getting us setup. Setup basically meant spending a few hours getting the drums setup correctly and a few minutes with everybody else. This would prove to be a very educational weekend. With the coffee flowing non-stop, we started recording. Tom, Larry, and I were all in separate rooms although we played the tunes together and could here each other through headphones. I was instructed, at that point, to leave out any solos I played in the tunes and continue to play rhythm parts in their place. Amy would sing her parts from inside the booth with Joe and Breck. At this point, her singing was for our own reference and would not be used in the final mix. After the initial tracks were recorded, I would go back and do my solo work on a different set of tracks and also lay down a keyboard part I had come up with for "Too Many Walls" as well as an additional acoustic guitar track on "Psychologic Genocide." Lastly, we would record Amy doing her final vocal tracks. For the most part, the recording went very smoothly. Both Breck and Joe were very easy to work with and they both thought we handled studio work very well. Tom especially got a lot of praise. Breck had tons of experience working with bands and he said that most drummers, even the best of them, had trouble keeping the tempo and that Tom played like a metronome. That made everybodyís job easier. After the recording was done, we broke for the day. The next day, we returned to mix. This mostly meant that Joe and Breck played the recorded tracks over and over again getting all of the levels and tones just right before recording it down onto stereo reel-to-reel. This was where we kind of blew it. Joe seemed open to getting our opinions on what he was doing but we were all a little apprehensive. Mainly because of the ultimatum Tom had given us before we started. Joe would also squash many of our mix ideas claiming that we couldnít put anything on the record that couldnít be reproduced verbatim on stage. That was a fairly common opinion at the time and one that could be chalked up to more of a philosophical opinion than anything else. Looking back at it from the comfort of today, it's an opinion that I have grown to strongly disagree with. So at the end of the day, we went home with a mix that we didnít really like very much but smiled and said "thank you" anyway. After listening to the tape for a few days, we couldnít stand it and insisted that we have another mixing session. All of the parties involved agreed and we went back to Multitrack one more time. On short notice, it was a tad difficult to get a good time slot in the studio so we ended up with a 3:00AM time slot on a Sunday morning and we were in there until about 8:00AM. We definitely improved on what we had but were, again, apprehensive about getting too involved in the process and still came out feeling pretty mediocre about what we had done. Now to explain why the mistakes were mistakes. Joe did good work on our stuff but Joe didn't know our stuff. Only we knew how we wanted the results to sound but we'd been, for lack of a better term, beaten into submission and kept quiet. Second, even if we hadn't made the first mistake, we could have gone back one, two, or ten years later and mixed it again. Once we said we were done, however, the master tape (which we didn't own) was returned to Multitrack's bin. That's the decision that still makes me cringe today.
With the recording and mixing finished, we returned to our schedule of rehearsing and performing. The tapes had been sent off to be pressed to vinyl and we were now working on agreeing on a package (cover art, liner notes, etc). The package shouldnít have been a big deal to agree on but the ensuing arguments were just another symptom of what were growing tensions internally. Tom was growing frustrated by the fact that we really hadnít "hit" yet. During a rehearsal in the shop one night, he took a few pot shots at Amyís commitment to the band and she went off! There was quite a scene between the two of them with Amy doing most of the yelling and the whole thing culminated with Amy storming out in tears. Larry ran out after her while the rest of us sat there looking incredulous. A few minutes later, Larry returned. We all talked well into the night trying to figure out what had happened. Admittedly, we werenít completely satisfied with Amyís voice at the time and had talked about that. Tom was the only one, however, that seemed to take issue with Amyís commitment. We managed to decipher where everybody was mentally before the evening ended and didnít pursue the matter any further. Tom was willing to continue and so was Amy so continue is what we did.
The fall of 1983 came around and, this time, both Amy and I moved to Ypsilanti. Having Amy in the neighborhood made things easier than the previous year since Amy owned an automobile. That meant Larry was off the hook for transportation between Dearborn and Ypsilanti. I was back with Matt and Brian but in a different house. Amy and Andrea Lipian (who I'd started dating during the "TV Party") moved into an apartment together (which proved to be another bad idea) that was walking distance from our house. The two of them seemed at odds from day one. And for me it was difficult because they were both a major part of my life at the time and actively taking a side would be disastrous regardless of which side it happened to be. So my answer was to stay out of it which didnít always set too well with Andrea. People who havenít been in a working band donít always see the correlation between a band and a marriage though. To Andrea, the two of us alone had a relationship. But to me, I had a very personal and important relationship with four people. The four being Andrea, Amy, Larry, and Tom (not to mention Brian and Matt). Performing on stage regularly, the members of Conditioned Response were sharing something together that nobody else could possibly understand. Strains on any of those relationships would mean strains on all them. It was very much like a tightrope walk and it certainly didnít always work. In the fall of 1983 it was, especially, getting harder and harder. Between Andrea and Amy, and the grudges between Amy and Tom, the rope was getting thin and the foundation was beginning to crumble.
As my own escape, I was beginning what would turn into many years of experimentation that year. I had started to make multi-track recordings of my own at home. Using two cassette decks, I would record into one. After that, I would play that recording back into the left channel of the other while adding additional tracks through the right channel. It was crude but effective and cheap. I had actually started messing with this setup during the previous spring but now I was writing and recording material and going through tapes like candy. At that point, all I had was my guitar but with all of the effects pedals I was using, I could create quite an array of textures to build on. Again ... crude but fun. One of the other high and low points of that season was when Kurt Wolf and I discovered that Arnoldt Williams Music in Canton actually had a Chapman Stick for sale in their store. I had never really lost interest in this item and, although I knew I still couldn't afford it, this would be a chance to try the thing out. So Kurt and I drove over feeling full of ourselves and ready to wow the store clientele with our musical prowess. Sure enough, they had a Stick in the display case and said that we could try it out. We each took a turn strapping that baby on and each took a turn causing the most god awful sounds to come from the store amp. This wasn't like anything we'd played before and we had not so much as a clue as to what we were doing. The salesman looked at us with a smile and said, "I don't know what you thought you were going to do with that." I guess that was a lesson learned and a scene that the salesman had seen on a daily basis.
Over the next few months, Conditioned Response continued performing with one small change. We were all pleased with some of the guitar overdubs I had done on the record so Amy started to play some rhythm guitar on a lot of our newer material. She had wanted to do that for a while anyway and it ended up filling out our sound quite nicely. The record finally released that year and we shipped them all over. We gave several of them away to people who had helped us get going, took them to record stores all over town, and sold them at gigs. In spite of our own issues with the finished product, the record did go over quite well. We were even sent a review that appeared in an Alaskan newspaper where some guy (donít ask me how) had gotten hold of a copy. It was probably the best review we ever had. As the end of October drew near, we were offered back to back shows that we couldnít pass up. The first was a Halloween party in the Pagoda Room and the second (the very next night) was a Halloween party at a hall in Hamtramck opening up for the "Polish Muslems." These were both going to be the best paying gigs we ever had and, being Halloween, we had a little extra license to snaz up our show a bit. The first order of business was to rent a fog machine for the weekend. The next item was to work up a good cover tune appropriate for the occasion. We started to work on the Bauhaus tune "Bela Lugosi is Dead." For this song, Amy switched over to bass and we had Larry sing the tune. It was quite a scene in the Pagoda. With the fog machine going full force, Larry sat in a big leather chair and did the tune clad mostly in leather himself. We definitely held their attention. The next night was to be pretty much a carbon copy of the Pagoda show. We got to Hamtramck and did our thing. Larry, again, did his rendition of "Bela Lugosi is Dead" and toward the end of the song, I climbed up on top of the big speaker tower to end it off. After the show was over, the party organizers allowed as how they didnít have the money to pay us what they promised so they paid us half and threw in two bottles of Canadian House Whiskey (no not Canadian Club ... Canadian House ... cheap, cheap, cheap). Since neither Tom or Amy drank, Larry and I each took a bottle and put them away during the coarse of the evening (another bad idea). By the time we started to head back to Ypsilanti, I was beyond intoxicated. Brian was the illustrious (and sober) driver and claims to this day that I continuously offered him money all the way home (which would have been quite a trick considering I didn't have any). The next morning was about what youíd expect. I couldnít move. The only thing that got me out of bed was the information that Larry was in much worse shape. His heart rate had raced up to about 170 and he was in the emergency room. This was something that seemed to happen to Larry every so often and it is something he has since learned how to keep under control. Still, it was sobering on my end. Suddenly my headache and nausea didnít seem quite so bad.
With the tensions being the way they were, we had all but stopped writing new material and spent much of the fall of 1983 playing the same show over and over again. This was eating at our management like a cancer and we were getting polite and impolite hints to do some new stuff. Even if it meant re-arranging some of our existing songs. Ever since the record released, Joe Tackett had been getting gigs for us opening for "Savoir Faire" to try and show us off. The first show we played with them was at a club called Traxx. Traxx had the best stage in the Detroit area. It was huge with all the amenities a national touring band might expect. This was our second time at Traxx and we played like shit (just like the first time). The place must have been cursed or something. We always got real excited about playing there, we always had a nice big crowd to play for, and we always played bad. And with things the way they were by then, the evening always ended with everybody sitting in the back stage dressing room pointing fingers and trying to lay blame.
Just as 1983 was drawing to a close, we were scheduled to open for Savoir Faire at "The Ranch" in Dearborn Heights. With one rehearsal left prior to the show, we realized that if we didnít do at least one new tune, we shouldnít even show up. I had been working on both the music and lyrics for a song called "Time After Time" and threw it out there to work on. Everybody seemed to like the song so we worked it up in record time. Our "Ranch" gig came and we showed up in good spirits. Our music had been slowly losing many of the obvious old influences and taking on a life of itís own. We were happy with our current set list and ready to go. We played a great show that night but, what started as a good night, quickly deteriorated and what we didnít know yet was that it would be our last (the latter we wouldnít find out for a while yet). We stayed around after our set to hear "Savoir Fair." They were a tight band and they were all really good musicians. They were all good guys as well. As they were getting near the end of their set, we had already started loading our cars when things went awry. We were out in the parking lot loading up the last of our gear when we heard a thud followed by quite a bit of commotion coming from the sidewalk. There was a guy yelling but we couldnít make out what he was saying. We started to move in his direction to see what was going on. Just beyond where he was standing, we could see what looked like a bag of garbage laying in the right hand lane of northbound Telegraph road. As we got closer, it became apparent that what we saw was a body. Apparently, a couple of girls were messing around by the side of the road (somebody said playing with paper airplanes but that was never confirmed) and one of them, without looking, stepped into the lane right in front of a car traveling at about 50MPH. It all happened so fast that the driver never had time to even try and hit his brakes. She was hit and thrown quite a distance. Brian immediately stepped into Telegraph to start waving cars out of the lane, Larry ran into the Ranch and danced on the bar until somebody called an ambulance, and I ran straight to the girl to see if she was awake, if I could throw my coat on her, anything. I was still several feet away when I could easily tell by the way her body had been twisted that she was dead. I donít think any of us had ever witnessed anything like that and sobering doesnít begin to describe it. To make matters worse, "Savoir Fair" finished their set and came out to see what the fuss was about. Their bass player got close enough to recognize the woman in the road as his girlfriend and he went hysterical. Rumor even has it that someone saw him sitting out on that curb several days later. The authorities arrived and we decided that the only reasonable thing for us to do was leave. We piled in Brianís car and drove all the way back to Ypsilanti without uttering a word.
1984
Shortly after the "Ranch incident", we found out that an acquaintance of ours name Lenny Puch had come into some money and setup a studio at his home. He lived out in New Boston on a fairly large parcel of land. His dad had built a large shed out back and sectioned off half of it for Lenny to use. He had setup a 16 track reel-to-reel, had put up a bunch of sound proofing, and called the place "Garageland." Lenny was playing in a band at the time called "Snake Out." Snake Out was a rockabilly band fronted by Lenny who sang and played guitar. He had the classic Gretsch hollow body and he could really play. In regard to the studio, he was just getting off the ground so he agreed to let us record in there for a mere $5.00 an hour. We decided to take him up on it and polished up three more tunes to record. We decided to stick with the newer material and settled on "Time After Time", "Iíll Walk Again" (which was another tune I had written both music and lyrics for ... and never liked), and "Loud On Trains" (originally titled "London Trains", Larry kept getting the name wrong and it stuck). We showed up on a Saturday morning in January of 1984 for our session and it was interesting. They ran a much looser operation than Multitrack and things were considerably less organized. Lenny was in and out while we were there but he left most of the engineering duties to his buddy Tim Reagan who was Snake Out's drummer. Tim was a very easy going guy and very pleasant to work with. On the newer tunes we were recording, Amy was now adding guitar parts and so the instrumental recording of the tunes took that much longer. Not having the multi-room setup, we opted not to lay down our starting tracks as a band. Instead, we did one track at a time right from the start. Tom took hours to do his drums. I donít remember exactly what was going on but he kept stopping for things we werenít hearing and everybody was getting increasingly irritated. By the time we'd finished the instrumental tracks, it was late. We had dragged Amy out to New Boston at the crack of dawn to play a little guitar and twiddle her thumbs for several hours and now her voice and patience were shot. So we piled back in our cars and all drove home mad. The next morning, Amy and I returned to Lennyís alone with only Tim working the booth and finished up the vocal recording and started to mix. Since we basically had no producer, I sort of became the producer but I took a lot of input from Amy and Tim. The end result was rough but not bad. Certainly not good enough to make a record out of but good enough to listen to and get gigs with.
More gigs werenít in the cards though. A couple of weeks later, Amy and I made the drive into Dearborn for rehearsal but, this time, we didnít rehearse at all. As soon as we walked in, Larry told us that Tom wanted to quit. Once Tom showed up, we talked for several hours until Amy and I piled back in the car and headed back to Ypsilanti. Somewhere in route, amidst silence, Amy suddenly burst out that weíd just spent hours talking in circles and hadnít resolved anything. She was right. The following Saturday, we drove back for another rehearsal knowing full well that it would be another talk session (I think I still brought all my gear but I donít think I removed it from the car). This time, Tom was insistent that he didnít want to be the one to quit but that his heart was definitely not in it anymore. Seeing this as an impasse, Larry stood up and announced that Conditioned Response was no more. There was really nothing else to be done. With things the way they were, the band was no longer fun but, instead, a job. Having no band was certainly not as bad as a band with members who didnít want to be there. It was a situation that I vowed I would never find myself in again. So that was it.
Only about a month went by and Larry and I were already tired of being nobody. Walking back into the minefields was definitely out of the question so we toyed with the idea of forming a new band without Amy or Tom. We had some jam sessions with various people. Some if it was fun. Some of it was awful. Somewhere in there, Larry had met up with Tommy Tucker. Tom sang fairly well and was interested in doing something. The three of us started to slowly work up some material when we found out that Tom Demerly was interested in getting back into it. We were a little apprehensive at first but then we gave in. The heat from that decision was swift. It had only been a couple of months since Conditioned Response folded and, as soon as word of our new lineup got out, the stories flew about how we "kicked Amy out of the band and replaced her with Tom Tucker." This was very troubling because it was so far from the truth but, admittedly, it did look that way. We continued though, calling ourselves "March 4th", and had rehearsals for a good chunk of the summer without ever actually performing in public. Although he only sang at first, Tom Tucker was interested in taking more of a role in the music and bought himself a Roland Juno-60 synthesizer. He and I started to develop some simple keyboard parts that he could play and sing at the same time. It was something that had never been part of our sound before and sounded good. John Thiry had even come back into the band and was playing some rhythm guitar parts. It was quite a different unit than the previous one but, still, the stories flew. In the summer of 1984, we decided to go back to Garageland and throw some of our material down on tape. It was a pretty interesting weekend. Lenny was double booking himself and the band just wrapping up while we walked in was the band Amy was now involved in. It was understandably awkward and, according to Tom Tucker, Amy approached him at one point and made a comment like "so youíre the guy they hired to replace me." Tom tried to explain to her that her take on the events was wrong but I donít think she believed him. Hell ... I probably wouldnít have believed him either.
It didnít really matter though because this new band was just not meant to be. Tom Demerly had signed up for the Army Reserves and was due to leave for a four-month stint in Georgia on August 1st. Just prior to that, Tom Tucker called me up and told me he was quitting. After Demerly left for the Army, I talked to Tom Tucker (who was now living out in Ann Arbor) and tried convincing him to start up with us again as soon as Demerly returned. Tom seemed game but the odd thing was that it was now Larry who was somewhat disinterested in the idea. We had time to work on him though. In the mean time, Tom Tucker was getting more and more into the idea of reforming and was coming over quite often to work on new material. I went along thinking that, when Demerly returned, we could stir up the pot a bit.
By this time, September was upon us and we changed apartments once again. Matt decided to move into a place by himself while Brian and I moved into a basement apartment on Normal Street. This place was a hellhole and falling apart while we watched. Andrea had moved into an apartment by herself and I was spending most of my time there. This was a time, also, when both Larry and I had started taking school quite a bit more seriously. My music degree was something I had decided to abandon. Although I had received what I considered to be an invaluable music education, I couldn't see beyond graduation. In the classical music world, you can major in performance. The truly gifted succeed in performance and truly gifted I was not. The remaining students either become grade school band directors or start selling shoes. With all due respect to grade school band directors, that wasn't for me. So I switched my major over to computer science (which Brian had gotten me interested in the year before) and had set myself up with a fairly aggressive schedule to get me out of college with a marketable degree. Larry was onto a similar track at the time and we were both trying to get to the home stretch of a bachelorís degree, nurturing a growing desire to actually make a living during our post college years. These priorities didnít jibe with Tuckerís priorities at all. Tom wanted a recording contract and a world tour while Larry and I had been down that path and had since faced reality. We still wanted to play music though. Larry suggested reforming Conditioned Response and not taking it so seriously this time. I remember thinking "Oh ... I donít know" and also being quite sure that Tom Demerly would not go for it. Well Demerly returned, Larry mentioned the idea, and Tom seemed genuinely enthused. I gave it a lot of thought and finally said "letís do it." All we had to do was bounce it by Amy who we were quite sure hated us by now. Interestingly enough, Larry talked to Amy at length on the telephone and she agreed.
So with that done, we officially reformed. This ended up being the shortest of all the incarnations. We started getting re-acquainted with our old material and things seemed good but there was definitely a spark missing. Larry also was just starting in on an annoying habit of just not showing up on rehearsal nights. Considering that I was driving out from Ypsilanti and I really did want to play (even today, nothing burns me more than a rehearsal cancelled at the last minute), this was driving me nuts. There were at least two weeks in a row that Amy, Tom, and I ended up talking all night because we didnít know where Larry was. When the third week came, and Larry was a no show again, I announced that I would not be coming back. I guess I'd like to say that I, then, get credit for pulling the final plug but I don't think that's a fair assessment. I think it was really doomed from the start. I had only made it official. With that, another year (1984) ended with the demise of yet another incarnation of Conditioned Response. Or maybe you could call it the last incarnation of the Skegs since this was, officially, the last band we would be in together.
Wrapup
Looking over my words here, the impression does come across that Condition Response had a lot of negative aspects and turned out to be something that we endured more than anything else. Although I haven't made any embellishments, I find that portrayal to be a little disappointing for many reasons. It really was a great time. All of the memories I have are good ones. If I hadn't taken notes while it was all happening, many of the negative events that I wrote about would be nothing more than distant memories by now. I've played in several bands since then and I am playing in a band today but Conditioned Response will always be the band that I hold nearest and dearest to my heart. We started off as best friends and with nothing else. We had a notion of something we wanted to do and we made it happen. For me personally, it marked the instance in my life where I stopped being a part of music and music became a part of me. I loved what we were doing and loved writing material for the band. And even now, I still think we had some truly great songs. Most of all, there were the shows. In spite of all the obstacles, we always connected on stage. The music came alive and any tensions always seemed to be left behind. The performance took on a life of it's own and created, for us, a place night after night that most people will never know and could never understand. In spite of our original shallow intentions, we found the zone.
Today, I am married and working as a software developer. I still play music and generally consider my main instrument to be the Chapman Stick although I play a lot of piano and still dabble with guitar and bass. I write and record my own music as 121normal (named after the location of my first home studio and the place where Conditioned Response was born) and I also play in the band Coup Detroit. Larry Cepuran earned an engineering degree and has returned to Michigan along with his wife and two children after spending time working and living in San Francisco, Chicago, and Los Angeles. Tom Demerly owns a successful bike store in Dearborn and is a seasoned adventure racer. He also writes for several athletic magazines and does speaking engagements. Amy Griffiths earned a bachelor's degree in art and is currently working as a Senior Production Artist at a local advertising firm. Amy played with several other bands after Conditioned Response including "Third Row Balcony" who later returned to Garageland to make a recording that I produced. John Thiry married Lynn Koz and they live outside of Ann Arbor. John continued to write and play music for some time. He recorded a solo session at Garageland that I produced and also played with local band "The Lucky Charms" who enjoyed a modest amount of success. Matt McDonald is still in southeast Michigan along with his wife and two girls. Tom Mallia left the radio business and spent several years managing a midwest chain of record stores starting in Chicago and then ending up back in Detroit. He has since left the music business and gone into finance. Brian Mitton earned his degree in computer science and currently lives and works outside of Chicago.
Most importantly, we all stayed friends.