Life Changing Recordings
A living and growing collection of records that profoundly impacted the way I make and listen to music. I lifted the idea from a Facebook friend by the name of Randolf Arriola who began posting his own version on his Facebook page. I loved the idea and asked him if he'd mind me doing the same and he seemed enthused that the idea was spreading.
The records shown below will be in no particular order.
Brian Eno
Apollo: Atmospheres & Soundtracks
1983
This wasn't the first of Eno's
ambient
records but it was the first one I personally owned and it really knocked my socks off. This record started my affair with ambient music and took me down roads I had never even considered as a musician. I still hold this up as a landmark record and it had a huge influence on much of my own works from that same era.
During my college years, a group of us regularly visited a friend's cabin nestled in 150 acres of northern Michigan woods and every night, we'd kill the lights and spin this record in it's entirety while drifting off to sleep. To this day, that is still the first place I think of whenever I hear this record.
Jean-Luc Ponty
Cosmic Messenger
1978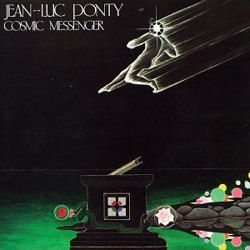 Fusion had already been around for years but in addition to marrying jazz and rock, Ponty also married his music with electronics and the drama of a modern score. Plus he surrounded himself with world class musicians. All the things I love but didn't know it yet.
I frequently underrate the impact of this record on my own musical life. Right after high school, I knew rock music pretty well and I thought I had a pretty good jazz background but all the jazz I knew was much older and more traditional. As a college freshman, my roommate put this record on the turntable one day and it was like a door opened. I'd never heard anything like it and within seconds I was convinced that this was the kind of music I wanted to make. I can't even count how many recordings I made back then that drew from this record.
The Moody Blues
Days of Future Passed
1967
I heard this record the first time when my older sister bought it around the time of its release. I was too young to really grasp the significance of it at the time but I remember that I liked it immediately. As I got older and (more importantly) became educated in the ways of making music, the accomplishment began to sink in and I still love every inch of it today.
The Moody Blues were part of a flurry of English art school bands that attempted to bring some formal education into rock music. Mostly these bands were met with some pretty harsh criticism as your average rock writer tends to be hostile toward things they don't understand. But as a young kid who regularly performed classical music and regularly listened to rock, the combination of elements on this record really seemed to hit home with me and my young musician friends. Of course the Moodies went on to have an illustrious career after
"Days"
but nothing they ever did compared in my opinion.
The Pat Metheny Group
Offramp
1981
The combination of being a guitar player and also a fan of the Police and King Crimson meant that I was introduced to the Roland GR-300 guitar synthesizer very early in its lifetime. I soon learned that it was almost impossible to do any research at all on this unit without the name "Pat Metheny" popping up. I had heard of Metheny before but didn't really know his stuff. So I went out shopping and simply grabbed his most recent release which, at the time, was
"Offramp"
.
The opening track
"Barcarole"
really grabbed me right off the bat as it was another one of those wonderful marriages of music and electronics. That track was followed by what has since become one of his signature tunes in
"Are You Going With Me?"
which featured what I consider to be one of the greatest extended guitar solos (played on the GR-300) ever put down on tape. Today the collection of records by Metheny is huge and I have just about all of them but this one will always rank in my top 2. This record was also the final straw in the 80s that pushed me into an extended period of dabbling in contemporary jazz with my own music.
Genesis
Seconds Out
1977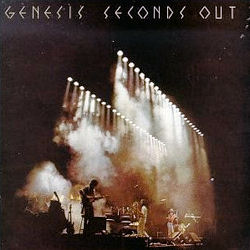 I know that the purists out there might scoff at the idea of not choosing one of the Gabriel era releases but truth be told, this record was my first introduction to the Gabriel era material. In spite of what they became later in their career, the early version of this band did some incredibly ambitious material. Like the Moodies, Genesis were yet another of the English art school bands who didn't just write and perform songs, they composed works and brought to the table an incredible command of western theory and harmony.
I started getting into Genesis with the record
"Duke"
. Then a friend turned me onto
"Seconds Out"
and I was introduced to tunes like
"The Carpet Crawlers"
,
"The Musical Box"
and the epic
"Supper's Ready"
. Even though these tunes were originally recorded on studio releases most of which featured Peter Gabriel on vocals, Phil Collins did a very faithful reproduction of the vocals in the live setting and the performances showcased just how good of a live band Genesis really was. Especially the live performance of
"Supper's Ready"
which I consider to be one of the best recordings of the 20+ minute epic to date.
The Beatles
Revolver
1966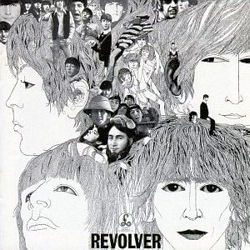 The Beatles were one of my favorite bands as far back as I can remember. There are very few rock or pop musicians who are my age that weren't influenced in some way by their body of work. The Beatles had an interesting combination of elements that resulted in a whole that was greater than the sum of its parts. First, Lennon and McCartney were simply that good a song writing duo. Second, they steered the world into an era where new and experimental became fashionable. Lastly, they met George Martin. Martin came from the classical world and brought a knowledge and command of multiple instruments, arranging and composing into the picture. The real spark, however, was that in the Beatles he found willing and eager participants. They welcomed what he brought and seemed to thirst to learn more.
In 1965 after an appearance in San Francisco, the group did something that was unheard of for rock/pop bands and something that no popular band today could ever get away with. They announced to the world that they would no longer appear live and would instead concentrate only on making records. This removed the restriction of recording music that the group could reproduce live and the very next record that the Beatles released was
"Revolver"
.
Pink Floyd
Dark Side Of The Moon
1973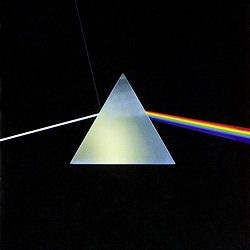 This one almost goes without saying. It's hard to pinpoint what it is about this record that made it so great or what it is that makes it so timeless. It's hard to pinpoint the qualities that catapulted the record immediately into the Billboard 200 chart and left it there for 741 straight weeks (an accomplishment never likely to be repeated) or what makes it so revered by musicians and non-musicians alike.
For me, DSOM has that perfect combination of strong writing, excellent musicianship from all of the performers, and exceedingly high production values. Pink Floyd, along with engineer Alan Parsons, utilized some of the most advanced studio techniques of the time to create what was essentially the perfect record. The music itself was a single cohesive work ... a single composition busted up into a series of movements. It was a form that was the hallmark of the progressive rock era but yet the material was so approachable that the band was not generally categorized that way. Of course for the young guitarist, the icing on the cake was the work of David Gilmour. Still one of my all time favorite guitarists and a guy who had a major influence on my own playing.
King Crimson
Discipline
1981
Back when Robert Fripp put together the 80s incarnation of easily one of the most influencial progressive rock bands ever, a friend from Boston called us here in Michigan with very strict instructions.
"King Crimson are playing in Ann Arbor tonight. Do whatever you have to to get in and see them."
So we got in, we watched, and then we drove home afterward with our mouths open. As musicians, we knew we were inspired but what we'd just seen was so far off the beaten path that we didn't really know where to go with the inspiration. I went out the very next day to not only buy the latest record but also to back fill my collection. I remember listening ad nauseam for days wondering what planet these guys had come from.
"Discipline"
marked the beginning of 80s era King Crimson and is still considered a landmark record. The compositions were complex and new. The band went off in directions where rock players generally didn't go. Robert Fripp and Adrian Belew established themselves as guitar giants and Bill Bruford simply re-affirmed his status as a drum hero. This was also the moment that legendary bassist Tony Levin introduced a much larger audience to the Chapman Stick. The instrument was featured prominently in the first 30 seconds of
"Elephant Talk"
(the record's opening track) and continued to take a huge role right up through the closing track.
"Discipline"
was incredibly strong and iventive from beginning to end and left, guitarists, drummers, bassists and budding Stick players both inspired and frustrated for years afterward.
Steely Dan
Aja
1977
Certainly there isn't anyone who would dispute this record being called a classic. Right from the start of their career, Donald Fagen and Walter Becker established a very high level of musicianship in everything they did. With their early releases like
"Can't Buy a Thrill"
,
"Pretzel Logic"
, and
"Katy Lied"
they showed that they were much more than a rock band with sensibilities that were obviously deeply rooted in contemporary jazz. This all came to a head with the release of
"Aja"
in 1977. The compositions were unlike anything that had been released to that point and the performances were all superb. The list of musicians on the record read like a who's who with names like Joe Sample, Larry Carlton, Lee Ritenour, Wayne Shorter, Steve Gadd, Jim Keltner, Rick Marotta and Michael McDonald (just to name a few).
My friends and I were young music students when this came out and were at an age where we could recognize and appreciate the musicianship that went into the making of this record. The admiration I had for
"Aja"
only grew deeper though as I moved from High School into the music program at the University I attended. I even had a regular get together with a friend who was a classical guitar student where we'd brew up a pot of coffee and spin what we considered to be a
"classic"
record from front to back. This record was always in regular rotation then and is still in the regular playlist of my iPod today.
Vangelis
Blade Runner
1982, 1994
In 1982 Ridley Scott released the movie
Blade Runner
which, to this day, is considered one of the all time great science fiction films. In addition to acclaim the film drew for the film-noir retro-future envisioned by the film maker, the Vangelis soundtrack drew acclaim for being the perfect counterpart to that vision. Together they created something never seen or heard before and now it's hard to imagine one without the other.
By the time Blade Runner hit theaters, Vangelis had already drawn acclaim for his soundtrack to
Chariots of Fire
. At that time, Vangelis didn't released recordings of his film work and the recordings you did hear were not the same recordings from the films and were done by someone else. In 1994 however, Vangelis did officially release a soundtrack record to Blade Runner.
This soundtrack had a huge impact on me personally. I had already been getting more into comtemporary jazz at the time but seeing this film and hearing the music really knocked my socks off. To this day one of the most common comments I get on my own music is
"this music should be in a movie"
. That connection is intentional on my part and a lot of that inspiration is drawn from the Blade Runner soundtrack.
The Chameleons
Script of the Bridge
1983
The Chameleons formed in Manchester, England during the height of the guitar-driven New Wave era that gave birth to such bands as U2, Echo and the Bunnymen, and the Psychadelic Furs. They were unfortunately a little bit late getting to the party and never really enjoyed the same success as some of their peers. Still, the work they put out in their short career is highly acclaimed by the music press to this day and they have influenced a substantial number of bands who came after.
Dark, melodic and atmospheric are all words that I've commonly heard used to describe the band's debut record
Script of the Bridge
. I was right in the middle of the Conditioned Response years when this record came out. It was one of those pivotal moments where I stood there listening to the lush guitar tapestry created by Reg Smithies and Dave Fielding thinking that I had found kindred spirits who were doing exactly what I was trying to do. Atmosphere, atmosphere and more atmosphere.
Unfortunately the band was short lived and neither of their two subsequent releases came anywhere near this one. Plus the production of this record wasn't the best and today sounds a bit dated. Still,
Script of the Bridge
has never left my rotation and is still parked in my iPod.